Press Release | Mayor of Niš calls for "guidance" on women's empowerment to strengthen Western Balkan region as a whole
News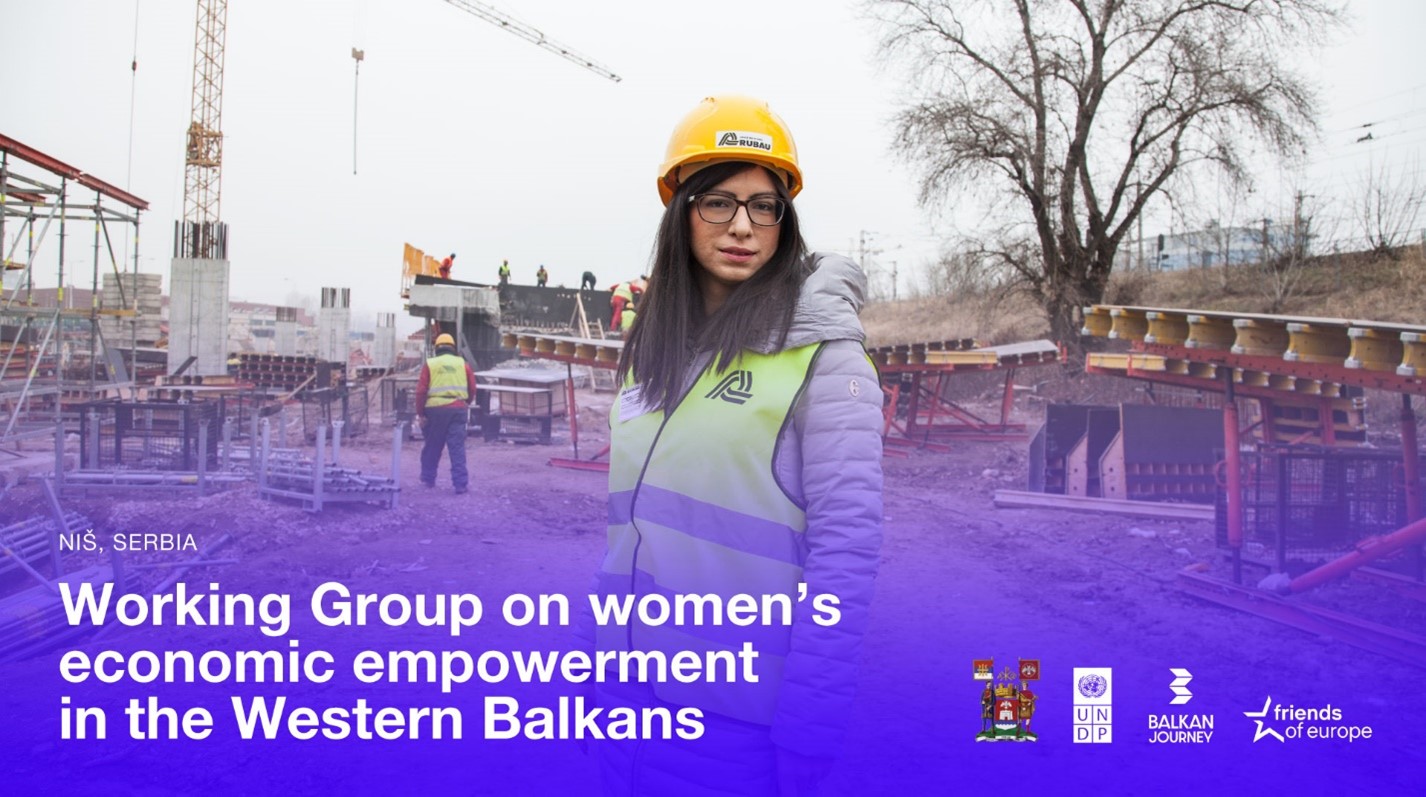 Niš, Serbia, October 14 – A Working Group on women's economic empowerment will convene today in Niš to discuss the creation of new opportunities in the Western Balkans at large, in a bid to strengthen regional cohesion.
Carried out in partnership with United Nations Development Programme (UNDP) and Friends of Europe, a Brussels-based think tank, this Working Group will address issues related to women's access to labour infrastructure, assets and services.
Building upon the success of its kick-off meeting in Tirana earlier this year, the second meeting of this Working Group will involve over 30 experts, including European and international institutions, as well as national and local representatives from the Western Balkans such as Gordana Čomić, Serbian Minister for Human and Minority Rights and Social Dialogue, and Daniela Gašparíková, UNDP Resident Representative for Montenegro.
In April 2021, the Law on Gender Equality was adopted in Serbia, which established a new normative and institutional framework for gender equality policy. The Coordinating Body for Gender Equality, established in 2014, led by the Vice President of the Government of Serbia and Minister of Mining and Energy Zorana Mihajlović, actively works on issues of gender equality and economic empowerment of women.
The City of Niš is an important site as it is a signatory of the European Charter on Gender Equality at the local level. Dragana Sotirovski, Mayor of the City of Niš, called for the Working Group to provide "guidance on how to lead the processes of economic empowerment in rural areas." Sotirovski went on to say that "examples of good practice and economic support from EU and Brussels are of great importance for Serbia and the Western Balkans."
Creating new opportunities for women in the regional labour market is crucial for sustainable economic development in the Western Balkans. This is more important than ever given the economic impact of the COVID-19 pandemic and the long road ahead to social and economic recovery.
In April, highly significant recommendations agreed by the working group also included approaches to empowering the status of women employed in the agricultural sector, and introducing gender-responsive budgeting (GRB) as a policymaking method. Assessing how to prioritise these recommendations will be the subject of the third and fourth Working Group meetings in 2023.
"Serbia has made significant progress in the economic empowerment of women and the creation of an overall environment for their inclusion in economic processes," said Sotirovski.
Organised by Friends of Europe, a Brussels-based think-tank, the Balkan Journey initiative is part of an effort to create new dynamics in the Western Balkans. Its new Working Group aims to identify the challenges to women achieving greater economic empowerment in the Western Balkans, as well as recommendations for overcoming them.
Friends of Europe is an independent think tank, seeking real solutions by transforming mindsets through the confrontation of ideas, breaking down silos between politicians, businesses and civil society.
WEBSITE AND SOCIAL MEDIA
Website            friendsofeurope.org
Twitter              Follow us @FriendsofEurope
Facebook         Like us at facebook.com/friendsofeurope.foe
Instagram         Follow us @friendsofeurope
#BalkanJourney #FoEDebate 
For more information or to interview the author please contact Seán Flynn, Press Officer at Friends of Europe below:
Seán Flynn | Press Officer
Friends of Europe
+353 86 064 4317
sean.flynn@friendsofeurope.org
***