About us
Mission, Strategic Objectives, Values, Approach
We believe that an EU built on of partnerships and solidarity matters, and we believe globalisation needs global rules to make it work for everyone. We think it's time for a new 21st -century social contract based on peace, prosperity and sustainability. We support a multilateral world with cities, regions, states, supranational institutions, companies and citizens cooperating to solve common challenges, and we embrace European values and freedoms.
"Connect – Debate – Change" is our DNA and central to the way we work. Friends of Europe is passionate about good policy making and a driving force for debate. Our work adopts a whole of society, whole of economy approach, engaging critical thinkers, unusual voices and those that are ready to challenge the status quo.
We believe in social justice and equality. We work with stakeholders across Europe and the world to craft bold and innovative recommendations to revitalize the European Project. We believe that good ideas and good policies come from breaking down silos and building communities of trust between policy makers, business leaders, civil society representatives and citizens. This is how to catalyse change.
Our mission
We seek to revitalise the European Project and build a more inclusive, sustainable and forward-thinking Europe
Strategic objectives
Our strategic objectives drive what we do and the way we work.
1. Promote New Leadership
Increase connections, inspiration and skills for emerging leaders who can cross boundaries, break down silos and challenge polarisation.
Promote and embed in practice a more collaborative, diverse and inclusive, intergenerational and impactful model of leadership.
2. Regenerate Democracy
Build trust between citizens and policymakers and improve civic literacy
Develop more effective models of governance including promoting a "new localism" – more citizen-centred, flexible, inclusive, networked, multi-stakeholder
3. Challenge Inequality of Opportunities
Develop effective public and private measures to address social exclusion at the local, national and regional level.
Promote and embed programming and policy-making which supports equal opportunities for individual citizens.
4. Bolster A Green Transformation
Support the scaling up of climate finance and increase incentivising initiatives for a just transition to renewable energy.
Promote more sustainable food systems through systemic policy change at a national, regional and international level.
5. Reframe Europe's Role in the World
Guide and increase the capacity of the EU to act as an effective partner in the international arena and with its neighbours.
Promote a more outward looking EU external relations policy, built on enhanced policy coherence and mutuality.
Our values
Friends of Europe does not represent any national, religious, political, corporate nor NGO point of view, and will welcome all sides of a debate to defend their points of view. However, Friends of Europe also stands for a basic set of values, and we will therefore not offer speaking slots or partnerships to political parties, governments or corporations that go against the basic values which the EU stands for, and that we as an organisation strongly adhere to. Those values are included in article 2 of the Treaty of the European Union:
"The Union is founded on the values of respect for human dignity, freedom, democracy, equality, the rule of law and respect for human rights, including the rights of persons belonging to minorities. These values are common to the Member States in a society in which pluralism, non-discrimination, tolerance, justice, solidarity and equality between women and men prevail."
Friends of Europe plays a highly important role as a driving global force for debate and new ideas. Fundraising through partnerships and projects is of vital importance to ensure the strongest possible impact, participation and reach of our activities. By upholding these principles of ethics, transparency and operating guidelines as we secure our funding, we are able to maintain our integrity and reputation as one of Europe's leading independent think-tanks.
Friends of Europe has joined the UN Global Compact. We are proud to be part of a global movement of stakeholders taking a principles-based approach to sustainability and taking shared responsibility for achieving a better world. The work we do aspires to meet fundamental responsibilities in the areas of human rights, labour, environment and anti-corruption. By incorporating the ten Principles of the UN Global Compact into our work we aim to uphold our and our partners' basic responsibilities to people and the planet. Our Communication on Engagement can be found here.
Our approach
Partnership. Effective partnerships are at the heart of our work. We believe that through nurturing mutual trust, learning and collaboration, partnerships bring innovation and influence.
Sustainability. We are proud to have joined the UN Global Compact and the global movement of stakeholders taking a principles-based approach to sustainability – upholding the essential responsibilities to people and the planet, and contributing to achieving the Sustainable Development Goals 2030.
Inclusion. Our programming embeds a whole-of-society approach aimed at opening up space to diverse voices, working across boundaries and silos, promoting social justice and inclusion, and challenging mistrust, polarisation and exclusion.
Humour. We believe humour is a human-centred value which brings connection and humility, open communication, creativity, positivity and inspiration – everything critical for healthy organisation and society.
Creativity. We cannot build a forward-looking Europe and sustainable world without tapping into our creative power, developing new ideas, being resourceful and innovative in our approach.
Transparency. A policy of openness regarding our organisation and its operations, including partners and participants in our activities and the financing of those activities. (See our separate section on Fundraising Guidelines)
Our work
"We saw glimpses of the best aspects of humanity in 2021. Faced with the ongoing challenges of the COVID-19 pandemic, vaccines developed in record time offered much needed relief. Solidarity took many forms within and between communities, from remarkable volunteer efforts to the approval of the European Union's largest stimulus package ever. Overcoming significant obstacles and establishing a degree of unanimity among member states, the Union demonstrated its commitment to Europe's recovery, while addressing challenges of democracy and the rule of law.
"It was with this optimism for the future of Europe that the Friends of Europe work programmes had been established throughout 2021," write Etienne Davignon, Belgian Minister of State and President of Friends of Europe, and Geert Cami, Co-Founder and Secretary-General of Friends of Europe, in an open letter.
Food policy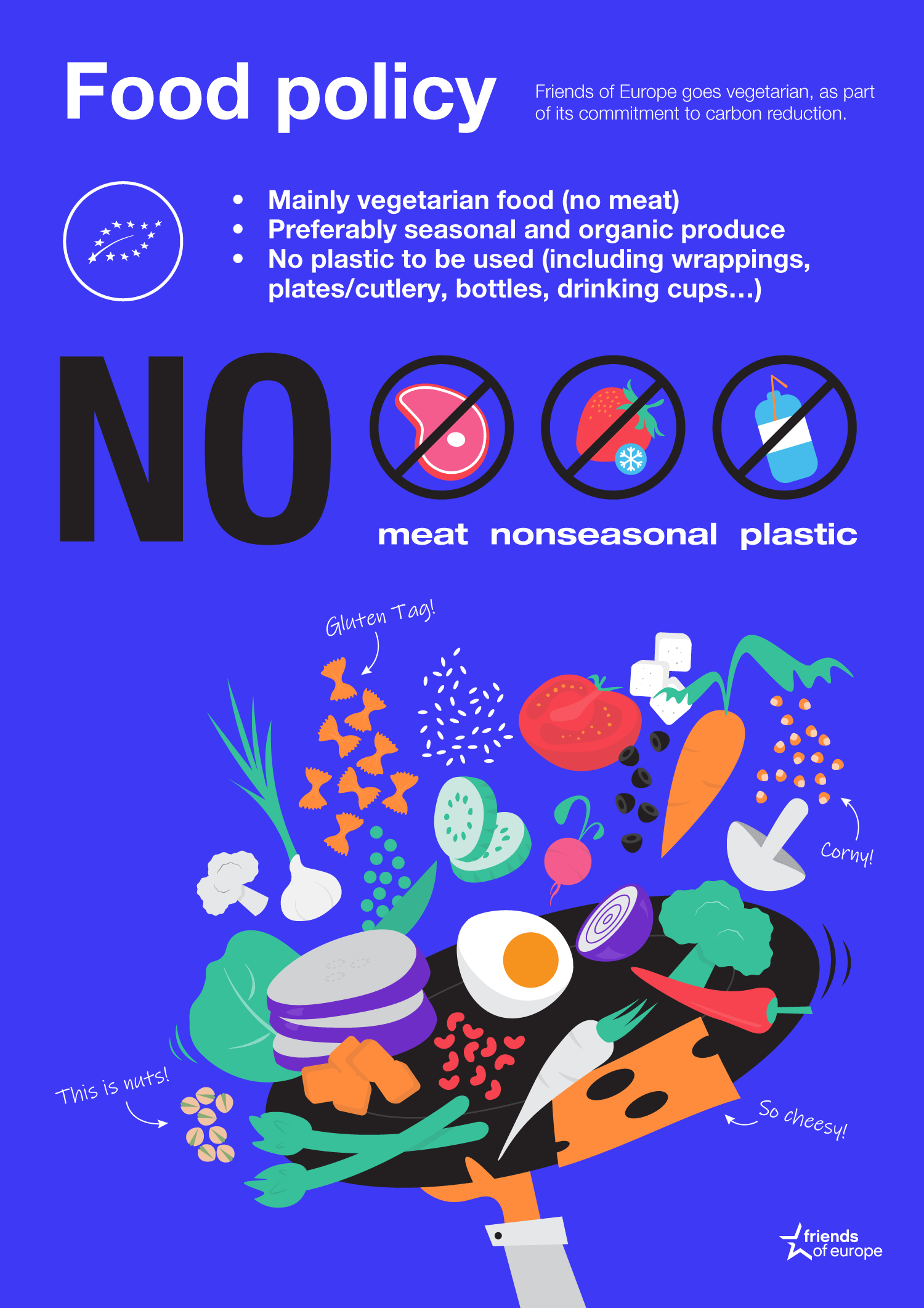 AREAS OF EXPERTISE
Learn more about our work