PRESS RELEASE | Leaders of Albania, North Macedonia and Montenegro on EU integration of the Western Balkans: "We will never give up"
News
Peace, Security & Defence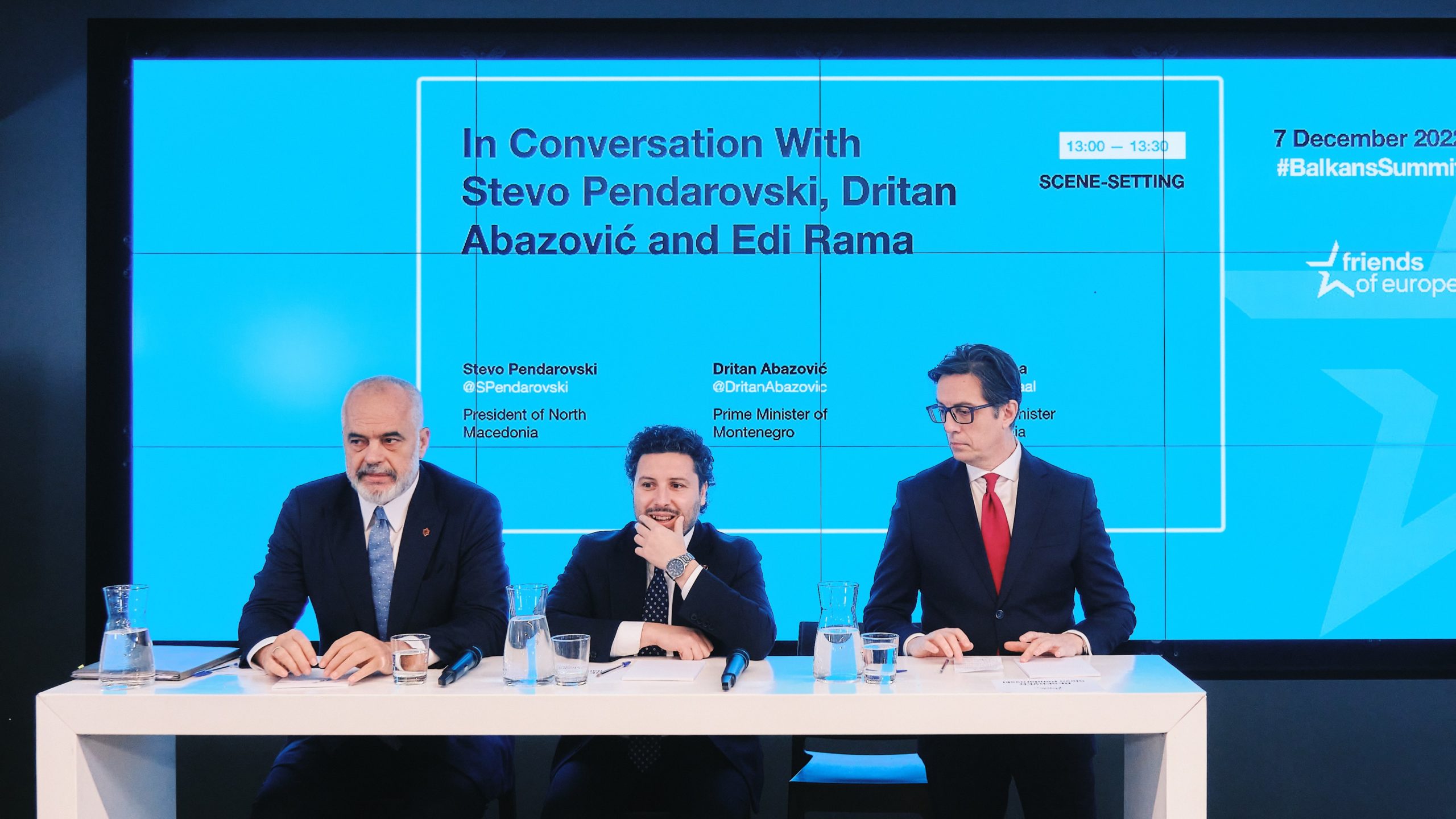 Brussels, December 9 – Edi Rama, Albanian Prime Minister, has said that "we will never give up" on the prospect of the EU integration of the six Western Balkans states.
The Prime Minister of Albania joined Stevo Pendarovski, North Macedonian President, and Dritan Abazović, Montenegrin Prime Minister, at Friends of Europe's EU-Western Balkans Summit on Wednesday 7 December, held just one day after the official EU-Western Balkans Summit in Tirana.
The Summit in Tirana represented a "clear signal" said Rama. "The EU needs the Western Balkans as much as the Western Balkans needs the EU."
The fact that EU leaders came to Albania for the Summit sent a message of progress and a level playing field for discussion. "Truly I think that something fundamental is changing," he continued.
"We'll be here, protecting the EU from the EU until the end," said Rama.
Stevo Pendarovski said that in the last eighteen months, support for EU integration dropped by 25% in North Macedonia. Despite this, aspirations for EU integration continues in defiance of rising authoritarianism.
"If we are seeing less of Europe, then we are going to see more and more of the authoritarian models coming in," said Pendarovski.
"The role of the EU is crucial, because the EU is representing the most dynamic force in this society," he continued.
Dritan Abazović made it clear that the EU needs to understand one simple thing – the EU should also stay attractive to Western Balkans countries, especially after Brexit and the Russian aggression against Ukraine. If they don't, Abazović said, "everybody will lose. Not just countries from the Western Balkans."
Abazović welcomed the EU-Western Balkans Summit in Tirana as a "very good meeting." But the Western Balkans "will remain a black hole" he said unless the space can be opened for dialogue, and the accession process can be speeded up.
"We need to see how we can support all six countries to stay focussed on EU agenda. It's not easy…ordinary people are waiting on concrete steps."
Friends of Europe's EU-Western Balkans Summit looked to the future of diplomacy and cooperation through the prism of youth voices, security, empowering industry, and building meaningful democratic procedures.
WEBSITE AND SOCIAL MEDIA
Website            friendsofeurope.org
Twitter              Follow us @FriendsofEurope & @debatingeurope
Facebook         Like us at Friends of Europe & Debating Europe
Instagram         Follow us @friendsofeurope
LinkedIn            Follow us on LinkedIn
#RenewedSocialContract #FoEDebate 
We are an independent think tank with a difference. We connect people, stimulate debate and trigger change to create a more inclusive, sustainable and forward-thinking Europe.
Development prospects need to go beyond the end goal of EU membership. Priorities include digital transition, green transformation, increased regional cooperation and the strengthening of democracy and rule of law. Our journey will engage with these overlapping and interlinking themes, promote new and progressive voices, and foster pathways to regional cooperation, resilience and inclusion.
Friends of Europe's Balkan Journey seeks to circumvent stagnant debates on enlargement in order to focus on moving the region forward in practical terms through political imagination and forward-looking solutions.