Summary
The work of local actors is crucial in the successful hosting of refugees in Europe, though their needs are often overlooked by national governments, panellists discussed at a Friends of Europe Policy Insight.
The event on 25 January, "Urban responses to refugees", invited local front-line officials and other experts to share best policies and practices for responding to refugee arrivals. Innovative responses at this level are vital in order to address the large influxes of refugees which have sent many systems into shock over the last several years, creating tensions between states and their international obligations, as well as between national and local governments.
"Urban areas are the unseen areas," said Hande Bozatlı, Honorary President of the Assembly of European Regions (AER). "They are close to citizens, so they are the first to face the problems of refugees. We are also working on the benefits of refugees: it is not just about problems. As urbanisation increases, more refugees will start living in urban areas."
The Turkish city of Gaziantep lies less than 100 km north of Aleppo, and currently hosts 600,000 Syrians, of whom only 40,000 live in refugee camps. To cope, it established a dedicated department for migration flows, set up workshops and focussed on priority areas. "Education was the most important thing," said Mayor Fatma Şahin. "If children are not included in the schooling system, they could end up in the hands of terrorists."
Adults must not be ignored either, as otherwise gaps are formed between children and their parents. "The children go to school and are integrated quickly," said Magnus Berntsson, President of the Region of Västra Götaland, Sweden. "But parents take too much time, and this creates differences between the children and the grown-ups. It is also a waste of resources not to find jobs for refugees. It is important to see all the benefits." Creating more flexible labour markets in the short term provides access to new arrivals. Indeed, in Sweden a sectoral demand led to fast-tracking the hiring process for refugees with expertise in specialist fields like medicine and engineering.
That said, the labour markets of some EU member states are relatively closed, as many jobs require professional qualifications earned over several years of training. This is particularly the case in some of the countries where refugees most want to settle, such as Austria, Germany and Sweden. "These countries have highly institutionalised labour markets, and you have to do many years of apprenticeship to work," said Rainer Münz, Advisor on Migration and Demography at the European Commission Political Strategy Centre. "Labour markets can only be liberalised to a degree."
Influxes of refugees into Europe have been controversial and in some cases have sparked ugly rhetoric. "The issue has called into question the future of Europe and what brings Europe together and pulls us apart," said moderator Dharmendra Kanani, Director of Strategy at Friends of Europe. "When we hear comments being made by leaders in Europe and across the world on the issue of refugees, it feels like we have not learned the lessons of 100 years ago."
However, some Europeans have been moved to help refugees in need. While the Netherlands' hosting of refugees sparked protests, it also led large numbers of volunteers to offer assistance. "In the Netherlands, whenever we open an asylum centre there is always a protest, but when we close it there is a bigger protest," said Kati Piri, Member of the European Parliament Committee on Foreign Affairs (AFET). "Local authorities and mayors are more useful than national governments, because it is they that are dealing with the problem." In order for local authorities to be truly effective, however, coordination both across municipalities and between local and national governments will need to be improved.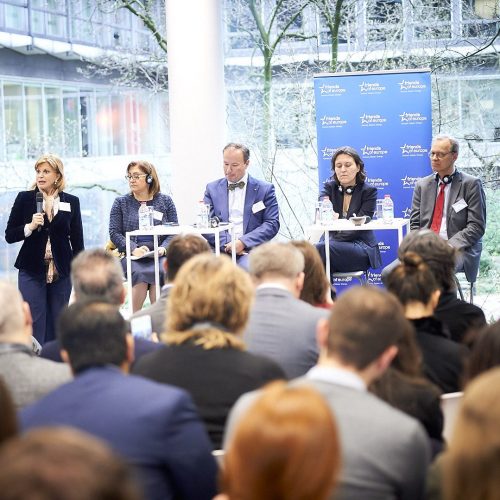 Event recording
Urban responses to refugees
Start playback
About
About
Please note that this event will now take place from 13.00-14.00 at Bâtiment Art 56, Avenue des Arts 56, 1000 Bruxelles.
This event is part of Friends of Europe's Migration Action initiative, through which we examine the imperative of migration in the context of economic sustainability and demographics, as well as its impact on public services, communities and security. Our approach is based on seeing migration and integration as assets rather than as threats. Changing the current narrative surrounding migration, by emphasising the positive over the negative and presenting citizens with a realistic picture of migration, is one of our key aims. Involving cities and municipalities, private foundations, national governments, international institutions and more, is in our view key to ensuring a more horizontal and holistic approach.
Schedule
Schedule
Welcome and registration of participants
Refugee flows, while not new, have sent many systems into shock over the last several years, creating tensions between states and their international obligations, as well as between national and local governments. Indeed, while cities and regions are often able to demonstrate resilience on the surface, issues of finance, governance, integration and urban planning are all linked to local systems which are being tested in ways for which they were not designed. The Turkish city of Gaziantep, lying less than 100 km north of Aleppo, and the Swedish city of Gothenburg are two such places. Despite the challenges of hosting large newcomer populations – of the 600,000 Syrians in Gaziantep, only 40,000 live in refugee camps – local authorities have employed innovative solutions in response. What lessons can be learned from the experiences of two cities like Gaziantep and Gothenburg?
What are the conditions that lead certain cities to effectively respond to an influx of refugees, while others fall into seeming chaos?
How have municipalities like Gaziantep and Gothenburg improved their ability to host and support large numbers of refugees, and what challenges have they faced along the way?
What should the national governments and European Union do to ease pressures at the local level?
Welcoming remarks
Hande Özsan Bozatli
Honorary President of Assembly of European Regions (AER)
Speakers
Magnus Berntsson
President of the Assembly of European Regions (AER)
Rainer Münz
Advisor on Migration and Demography at the European Commission Political Strategy Centre
Kati Piri
Member of the European Parliament Committee on Foreign Affairs (AFET)
Fatma Şahin
Mayor of Gaziantep
Moderator
Dharmendra Kanani
Chief Operating Officer and Chief Spokesperson of Friends of Europe
Partners
Partners
Coorganized with