Press Release | "Outer space: A disaster waiting to happen," says Friends of Europe report
News
Digital & Data Governance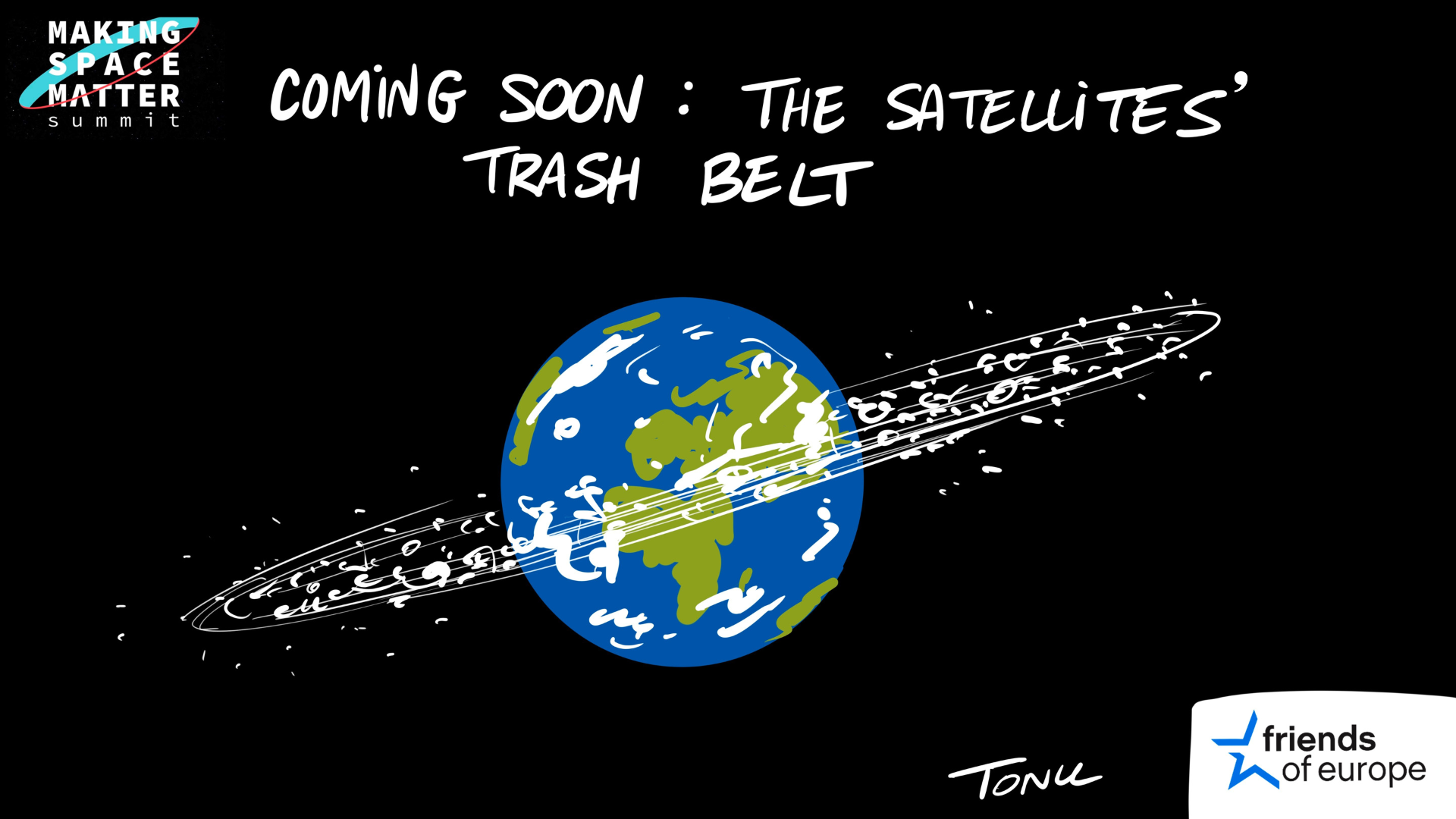 Brussels, June 20 – Outer space is a disaster is waiting to happen due to an accelerating free-for-all in Low Earth Orbit, a Friends of Europe report published on Monday warns, outlining ways for the European Union and NATO to cooperate to help avert the danger through international regulation and better protection.
"Running out of Space: European security in space," authored by Paul Taylor, a senior fellow at the Brussels-based think-tank – Friends of Europe – says private operators, new state actors and new technology have outgrown existing space law, creating a Wild West in which the only rules are "first come, first served" and "finders keepers".
Both space safety – the threat to all spacecraft from cascading debris – and space security – the risk to nations' and companies' satellites from hostile activities – are in jeopardy.
"The cosmos is a theatre of strategic muscle-flexing among the major powers, a no-man's-land subject to unilateral land grabs by commercial interests, and a playground for billionaires with money to burn," Taylor writes.
"Preserving the heavens as a common good and fighting space pollution require a similar sort of collective international effort that is being applied – albeit insufficiently – to combating global warming."
More satellites were launched in 2020 and 2021 than in the entire prior period from the first Sputnik launch in 1957, he notes, and a single private operator – Elon Musk's SpaceX – owns half of all the active satellites in space, with licenses to launch thousands more by 2030.
Yet there is no international oversight body to govern space and enforce rules – no space traffic cop, road sweeper or parking warden, and no punishment for litter louts. UN efforts to set norms and produce a multilateral rulebook have proven "excruciatingly slow". Building a consensus on responsible behaviour in space through coalitions of like-minded nations may be more productive.
The report, written during Russia's war on Ukraine, is part of the organisation's Making Space Matter initiative and was launched at Friends of Europe's Space Summit event organised in partnership with the European Space Agency on 20 June. It illustrates how the war has demonstrated the multiple uses of space in combat, from the privatisation of satellite intelligence and military connectivity to the impact of cyber-attacks on space systems.
While Europe has areas of excellence in space such as the Galileo Global Navigation and Positioning System and the Copernicus earth observation network, Taylor warns that it has fallen behind in the space race – notably in launchers, satellite mega constellations and space situational awareness. This is mainly because European public investment in this growth-enhancing domain is far smaller than that of the United States or China.
The report analyses obstacles to developing a thriving commercial New Space sector in Europe and recommends reforms to boost competitiveness and halt a brain drain of space expertise. It catalogues the spread of space weapons and urges the EU to stop being naïve about the militarisation of space and collaborate to protect its own space assets, including with defensive counter-space capabilities.
It urges the EU and NATO to expand their cooperation to the space domain, where Europe has assets that could be valuable to the alliance in earth observation and improving its space situational awareness and tracking.
This is the 10th report authored by Taylor in Friends of Europe's European Defence Cooperation series. The veteran journalist also writes the "Europe at Large" column for POLITICO.
ENDS
For more information or to interview the author please contact Seán Flynn, Press Officer at Friends of Europe below:
Seán Flynn | Press Officer
Friends of Europe
+353 86 064 4317
sean.flynn@friendsofeurope.org
***
We are an independent think tank with a difference. We connect people, stimulate debate and trigger change to create a more inclusive, sustainable and forward-thinking Europe.
About the Making Space Matter initiative:
The opportunities space provides, on priorities such as climate change, security and digitalisation, have the ability to set Europe apart and to improve the lives of all Europeans.
However, space is becoming ever more congested and contested due to increasing numbers of launches of space-based enterprises and satellites.
Making space matter will require a whole economy, whole society approach to these issues, and this is the guiding principle of Friends of Europe's Making Space Matter initiative.