Press release | Balkan summit calls for shift in narrative to revitalise relationship with European Union
News
Peace, Security & Defence
The Western Balkans – and in particular its young people – will have a say in the European Union's Future of Europe Conference, as the region continues to draw closer to EU membership, Dubravka Šuica, European Commission Vice-President and Commissioner for Democracy and Demography, said Tuesday.
"We are preparing this Europe for the next generation, together with you, with young citizens," Šuica told a roundtable with young people ahead of Friends of Europe's annual EU-Western Balkans Summit. "We cannot talk about the future of Europe, without having Western Balkans in mind."
The summit aimed at shifting the narrative of EU-Balkan relations, looking beyond the long-delayed accession process to revitalise approaches through civil-society and private-sector engagement; using pandemic recovery funds to boost the green and digital transition; and leveraging geopolitical dynamics for trade and investment.
Young people are key to that narrative shift. Šuica urged them to set forward their ideas on a multilingual digital platform feeding into the Conference on the Future of Europe, which was launched in 2019 to examine possible reforms of the EU's policies and institutions.
A survey by UNICEF, released to coincide with the summit, showed strong support for joining the EU among Balkan youth. Over 57% think their country's membership would 'make things better'. However, they have little hope that's going to happen soon, and the survey shows low levels of trust that local politicians will heed the voice of youth.
"The young generation is the engine of every country, and their trust is crucial for any political representative," Alesia Alldervishi, an International and European Law Student at the Europa Institut of Germany's Saarland University, wrote in an article for Friends of Europe.
"Yet, 24.4% think that their country will never get into the EU, and 60.5% strongly disagree that political representatives heard their voice," she added, referring to the UNICEF report. "These two statistics show the immediate need for Western Balkan countries and their governments to recognise the youth perspective and reconsider how the youth is involved in decision-making processes."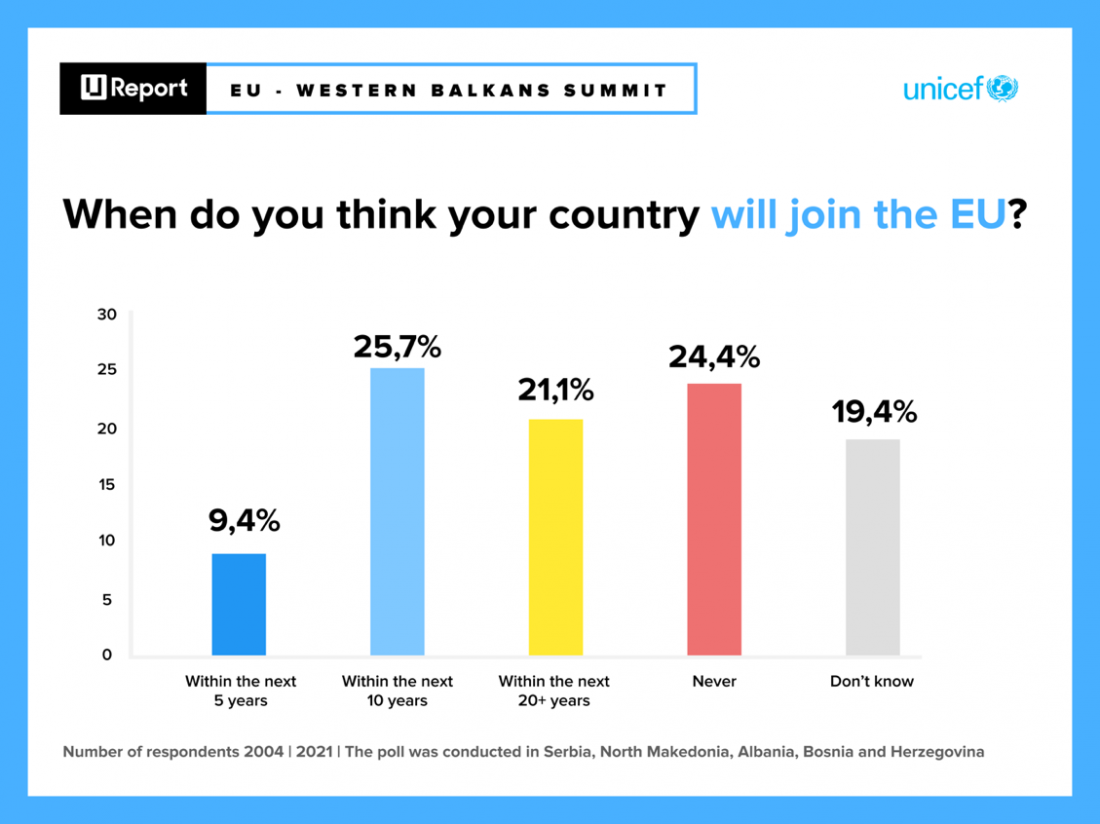 At the summit itself, speakers from the Western Balkans, welcomed EU initiatives such as the Economic and Investment Plan that aims to leverage up to €30 billion to support post-pandemic recovery and integration into the European single market. However, such progress cannot be a substitute for the goal of EU membership, and participants appealed for European leaders to speed up the accession process.
"Without an effective accession process towards the EU, there is no stable and quality solution," said Igor Lukšić, former prime minister, former minister of finance and former foreign minister of Montenegro.
"I'm not advocating for short cuts, I'm asking for the process to move," he added. "We need to restore European enthusiasm that existed, at full scale, in our region some years ago."