About us
Mission, Vision, Values
Friends of Europe is Brussels' most innovative think-tank, and for two decades has been showcasing new ideas on Europe's future while challenging outdated ones.
Our distinctive style of lively, confrontational debates is a hallmark of the EU policymaking scene. So too are our in-depth reports and studies, many of them written by top journalists to ensure impartiality and readability.
We have expertise in the full spectrum of issues now shaping the EU of tomorrow. From industrial policies to health and the environment, and from defence and security to Europe's relationships with Asia, Africa and the US, Friends of Europe is Brussels' 'Go To' think tank and event host.
We are proud of our track record as a technology trailblazer harnessing advanced communications to take EU issue beyond the "Brussels Bubble". We championed pan-European video debates, and our 'Debating Europe' online discussions have attracted over four million participants.
Friends of Europe was founded in 1999 by its Chairman Giles Merritt, an influential EU commentator and former Brussels correspondent of the Financial Times, and Geert Cami, the Secretary General. 
Our mission
Shaping global change as an independent and nonpartisan think tank for lively policy reflection and debate, producing concrete recommendations to tackle the evolving challenges of our times.
Our vision
We believe Europe matters, and that globalisation needs global rules to make it work for everyone. We think it's time for a new 21st-century social contract based on peace, prosperity, and sustainability. We support a multilateral world with states, supranational institutions and citizens cooperating to solve common challenges, and we work to defend European values and freedoms
Strategic objectives
Our strategic objectives drive what we do and the way we work.
1. Promote New Leadership
Increase connections, inspiration and skills for emerging leaders who can cross boundaries, break down silos and challenge polarisation.
Promote and embed in practice a more collaborative, diverse and inclusive, intergenerational and impactful model of leadership.
2. Regenerate Democracy
Build trust between citizens and policymakers and improve civic literacy
Develop more effective models of governance including promoting a "new localism" – more citizen-centred, flexible, inclusive, networked, multi-stakeholder
3. Challenge Inequality of Opportunities
Develop effective public and private measures to address social exclusion at the local, national and regional level.
Promote and embed programming and policy-making which supports equal opportunities for individual citizens.
4. Bolster A Green Transformation
Support the scaling up of climate finance and increase incentivising initiatives for a just transition to renewable energy.
Promote more sustainable food systems through systemic policy change at a national, regional and international level.
5. Reframe Europe's Role in the World
Guide and increase the capacity of the EU to act as an effective partner in the international arena and with its neighbours.
Promote a more outward looking EU external relations policy, built on enhanced policy coherence and mutuality.
Our values
Friends of Europe does not represent any national, religious, political, corporate nor NGO point of view, and will welcome all sides of a debate to defend their points of view. However, Friends of Europe also stands for a basic set of values, and we will therefore not offer speaking slots or partnerships to political parties, governments or corporations that go against the basic values which the EU stands for, and that we as an organisation strongly adhere to. Those values are included in article 2 of the Treaty of the European Union:
"The Union is founded on the values of respect for human dignity, freedom, democracy, equality, the rule of law and respect for human rights, including the rights of persons belonging to minorities. These values are common to the Member States in a society in which pluralism, non-discrimination, tolerance, justice, solidarity and equality between women and men prevail."
Friends of Europe plays a highly important role as a driving global force for debate and new ideas. Fundraising through partnerships and projects is of vital importance to ensure the strongest possible impact, participation and reach of our activities. By upholding these principles of ethics, transparency and operating guidelines as we secure our funding, we are able to maintain our integrity and reputation as one of Europe's leading independent think-tanks.
Friends of Europe has joined the UN Global Compact. We are proud to be part of a global movement of stakeholders taking a principles-based approach to sustainability and taking shared responsibility for achieving a better world. The work we do aspires to meet fundamental responsibilities in the areas of human rights, labour, environment and anti-corruption. By incorporating the ten Principles of the UN Global Compact into our work we aim to uphold our and our partners' basic responsibilities to people and the planet.
Guiding principles
As an independent and neutral platform, Friends of Europe seeks to uphold Europe's fundamental values of inclusiveness, solidarity, well-being and the environment, while facing global challenges. Our operational principles for debates and reports include:
• Broad participation: We seek the widest-possible participation in terms of views, geographical diversity, demographics and kinds of stakeholders including NGOs and businesses, policymakers and thought leaders. Striving to include a cross-section of generations and walks of life. Seeking a confrontation of ideas and convergence of views by combining experience with youthful energy, to produce concrete solutions with the widest-possible support on which stakeholders can act.
• Forge new solutions: We seek global solutions from our thought-provoking discussions, workshops, publications and online debates. To depart from navel-gazing and reach for blue sky thinking, towards a new Europe which is more innovative, original, interactive, dynamic, and fun. Solutions via thinking from scratch, out of the box, gloves off, in no-holds-barred discussions.
• Transparency: A policy of openness regarding our organisation and its operations, including partners and participants in our activities and the financing of those activities. (See our separate section on Fundraising Guidelines)
Food policy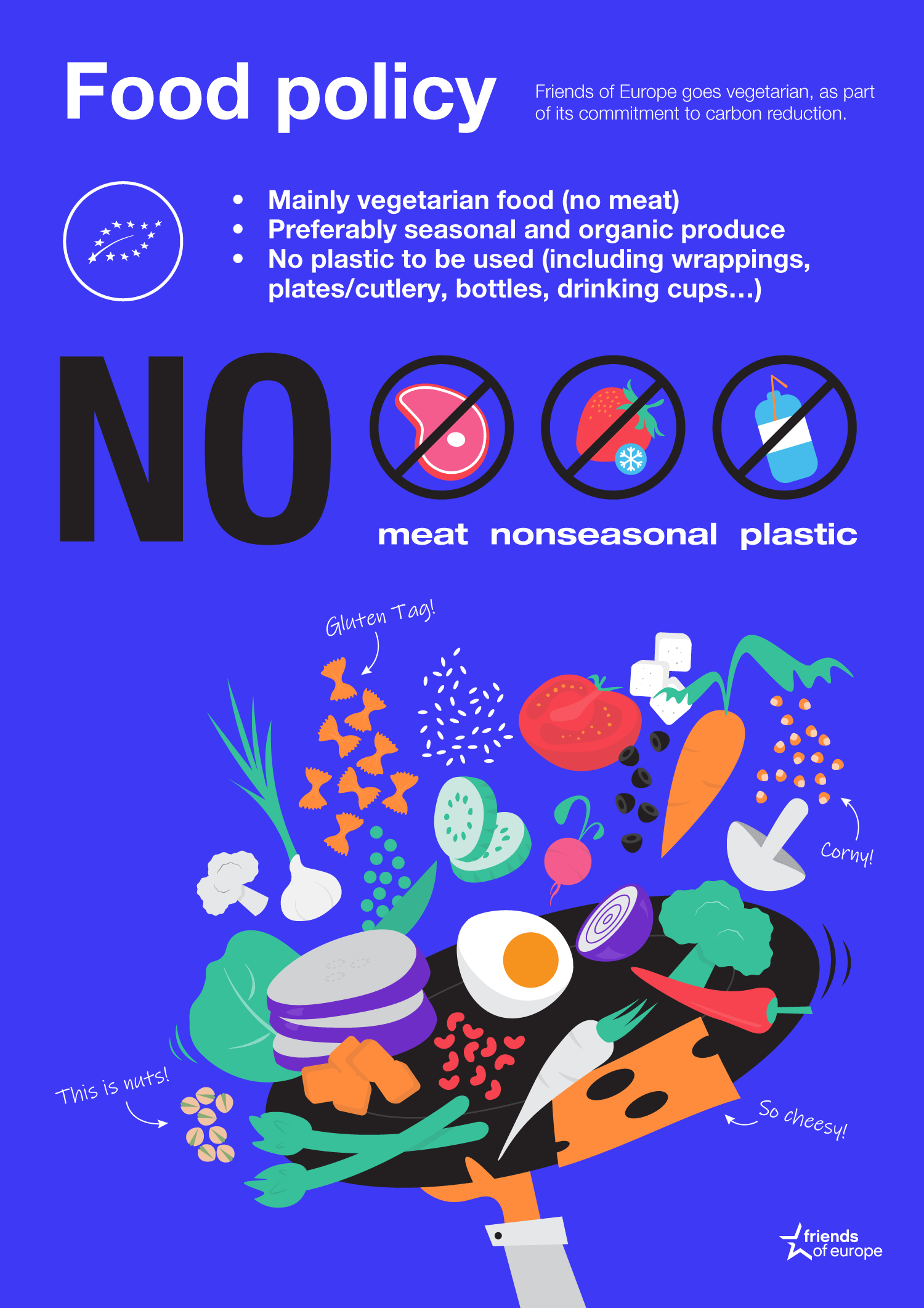 AREAS OF EXPERTISE
Learn more about our work